Nordfab Ducting provides a variety of technical resources to assist you as you specify or order our products. Our authorized dealers are trained in our product line and its applications and are happy to provide their expertise and the documentation you need. Complete our Contact form or call us at 800-532-0830 to request assistance.
Here on our website, you may find these resources helpful:
Literature
Nordfab Product Ordering Information
Technical Information Regarding Ductwork
Nordfab Ductwork Installation Guides
Assistance with Ducting Layouts for Your Plant or Shop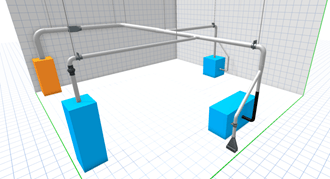 Nordfab Ducting can provide, through our authorized dealers, detailed drawings, including a 3D design, and parts lists for your duct system. Your local dealer may request that you complete a questionnaire detailing machine locations and sizes as well as general information about your dust collection system. Contact us for design assistance.
Nordfab offers complimentary, customized software, NordCAD™, for owners of full versions of AutoCAD software to assist in designing ductwork layouts. Learn more about Nordfab Installation Design Tools
Education
There are a number of recognized expert and / or regulatory resources for finding information about industrial ventilation systems and components. Click here to see a list of recommended resources.
If you are a Nordfab Ducting authorized dealer, you are invited to attend a Nordfab University (NFU) to gain firsthand knowledge of our products and ordering process. Learn more about Nordfab University