Training for Nordfab Authorized Dealers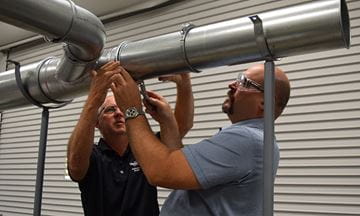 Nordfab Ducting Americas plans a number of training sessions each year for Nordfab Authorized Dealers. At Nordfab University™ (NFU), you will learn in-depth product details about all Nordfab ductwork for dust collection, gain application knowledge and get firsthand duct installation experience. Our experience has shown that most dealers who attend NFU see a significant sales increase within the first year.
Dealers will be trained to use "The Three Quicks", our integrated suite of timesaving, digital tools for selling ductwork:
our 3D duct installation design tool, Quick-Fit Visual®,
for quoting and ordering, Quick Tick Online™ (QTO),
and our customer service portal, QSO.
Please see below for Nordfab Americas 2023 NFU schedule:
• March 8 – 9
• April 12 – 13
• May 10 – 11
• September 20 – 21
• October 4 – 5
NFU is held on our campus in Thomasville, North Carolina, and training includes tours of our manufacturing plants, as well as training on our sales tools and products.
Space is limited, so please make your plans as soon as possible. Register by completing and returning the registration form linked below.
Download the registration form for NFU by clicking here
Please do not make travel plans until we have confirmed registration. Contact your Nordfab account manager if you need additional information.