Nordfab offers fast and friendly specification, installation design, and quoting tools for planning ducting installations.
These include a variety of software tools to simplify designing layouts:
For specifiers who use MasterSpec® or ARCAT®, Nordfab's specification is easily available - learn more by clicking here or on the Ductwork Specifications tab above.
If you need specification or design assistance, please contact us.
---
NordCAD™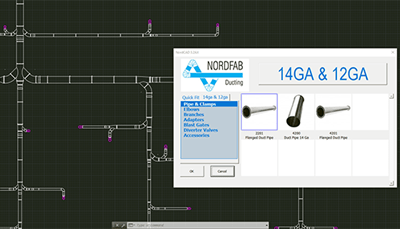 NordCAD™ is our CAD-based tool to assist with designing Nordfab ductwork installations. NordCAD allows a CAD user to place 2D illustrations of Nordfab QF Ducting and Flanged Ducting components into a CAD drawing.

NordCAD 3.2AX is updated to allow users to import a BOM that can be used with Nordfab's quoting and ordering tool for Nordfab Authorized Dealers. NordCAD users can export a Bill of Material that can be imported into Nordfab's quoting tool to generate a quick quote for the materials listed in the Bill of Material.

To download NordCAD 3.2AX, please click on the appropriate link below to register. Once you are registered, you will receive links to download the software along with installation and user instructions. You will be notified in future of updates.

Nordfab Authorized Dealers: Click here to register for NordCAD 3.2AX

Other users: Click here to register for NordCAD AX3.2

The software is functional ONLY with FULL versions of AutoCAD.

NordCAD 3.2AX is designed for users located in the Americas; all dimensions are in imperial units of measurement. If you are located outside the Americas, please change your site to reflect the Nordfab operation (Europe, UK, or Asia Pacific) nearest you so that you can request the metric version of NordCAD.

---
Assistance with Ducting Layouts for Your Plant or Shop
If you do not have AutoCAD or SketchUp, Nordfab Ducting can provide, through our authorized dealers, detailed drawings and parts lists for your duct system. Your local dealer may request that you complete a questionnaire detailing machine locations and sizes as well as general information about your dust collection system. Contact us for assistance.
---

IMPORTANT NOTES:
Nordfab's NordCAD™ and 3D Warehouse™ are the exclusive property of Nordfab Ducting LLC.
Nordfab provides this software as tools to assist in designing ductwork installations. Nordfab is not liable for any harm to a user's computer or related devices as a result of downloading or using any related software (please see below).
This SOFTWARE PRODUCT is provided by Nordfab LLC (THE PROVIDER) "as is" and "with all faults." THE PROVIDER makes no representations or warranties of any kind concerning the safety, suitability, lack of viruses, inaccuracies, typographical errors, or other harmful components of Nordfab Warehouse (this SOFTWARE PRODUCT). There are inherent dangers in the use of any software, and you are solely responsible for determining whether this SOFTWARE PRODUCT is compatible with your equipment and other software installed on your equipment. You are also solely responsible for the protection of your equipment and backup of your data, and THE PROVIDER will not be liable for any damages you may suffer in connection with using, modifying, or distributing this SOFTWARE PRODUCT.
As of September 2019, NordCAD 3.2AX replaces all previous versions of NordCAD.