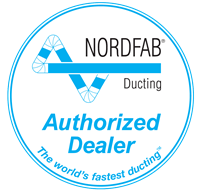 If you already know you want to become a Nordfab dealer, click here to complete our interest form. If you are not sure, please read on...
Nordfab Ducting's precept is "Fast, Friendly and Reliable". What does that mean to our dealers?
Fast
Through continued development of our selling tools, we do our best to reduce the amount of time it takes for you to sell ducting.
Our dealers have access to a comprehensive set of selling tools, what we call "The Three Qs" —our online quoting / ordering tool, Quick Tick Online™, which is intuitive and can be quickly learned; Quick-Fit Visual®, our easy-to-use, online, 3D duct installation design tool which can be used to quickly generate an installation floorplan and estimate; and My Quick Solutions Online, our customer service portal which provides quick, 24/7 access to customer account information including shipment tracking, invoices, leads, and more.
Our newest selling tool, Quick-Fit Visual (QFV®) provides automatic calculation of duct sizing, static pressure loss, and system requirements, quotations and visual 3D plans; installation documents; and .dwg drawings for use with CAD to incorporate duct system into facility installation plans. Installation floorplans and estimates for small industrial spaces can be generated within minutes. Learn more about this recently launched resource which has recently won a AWFS® Visionary New Product award.
Our ad slogan for our Quick-Fit® Clamp Together Ducting System is "The World's Fastest Ducting™". Nordfab originated clamp-together ducting and continues to be the world's largest manufacturer. Because Quick-Fit clamps together, screws, rivets and welding are eliminated, reducing installation time over other ducting systems by 45-50%.
Most orders for typical systems are shipped within five days or fewer. Our Sales Team responds quickly to requests and acknowledges orders within 24 business hours (usually within an hour or two). Our Nordfab Now® program will allow even faster shipment of standard products; Nordfab Now designated items will ship the next business day after an order is submitted using Quick Tick Online.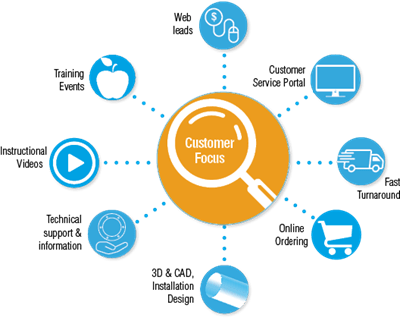 Friendly
Through continued development of our selling tools, we do our best to reduce the amount of effort it takes for you to sell ducting. Nordfab provides project management tools such as a customer service portal, Quick Tick Online™, Quick-Fit Visual, and NordCAD™ to simplify ducting system design and quoting. Quick Tick Online allows you to quickly generate quotes you can provide to your customers and to quickly submit a purchase order to Nordfab. Quick-Fit Visual and NordCAD allow users to place illustrations of Nordfab duct components into a design for an installation. Bills of Material generated by Quick-Fit Visual and NordCAD 3.1Q can be imported into Quick Tick Online to quickly generate quotes.
Quick-Fit is the easiest industrial duct system for designing and installing.
Quick-Fit can be easily adapted to existing ducting systems.
Quick-Fit is re-useable. It can be quickly disassembled and moved around during facility reconfigurations.
Nordfab employees provide high quality customer service and a high quality product. In addition to an in-house account manager, you will receive field support from an experienced regional manager. Our depth of experienced staff is unmatched.
Nordfab provides you with complimentary, qualified leads generated by our website and tradeshow presence. Our marketing investment greatly benefits our expert dealers. View our tradeshow schedule.
Reliable
We provide expert, formalized training for our dealers at our Nordfab University™ and during visits from our regional sales managers.
Nordfab Americas was incorporated in 1979. We continue to grow and to expand our facilities and our sales network.
Brand recognition: Nordfab is the most widely specified clamp-together ducting. The Nordfab brand was introduced in 1973.
We always sell through our authorized dealer network.
Talk to a member of the Nordfab Sales Team to learn more by calling 800-532-0830 or complete our online form below to have a member of our Sales Team contact you.
---