Nordfab Ducting offers a variety of hoods for local exhaust ventilation (LEV). We can provide hoods to your custom design, including enclosing hoods, close capture hoods, and slotted hoods, as well as rectangular to round inline duct transitions.

Some benefits of applying hoods in your dust collection system include better dust capture, lower static pressure, and lower power consumption.

Nordfab hoods are economically priced and can be quickly produced. Available in galvanized and stainless steel construction with diameters up to 72" and square / rectangular ends to 120". Some of our options include:
Transitions - Rectangular to Round and Square to Square
Nordfab Transitions and Hoods are highly customizable. When ordering, specify material, gauge (if non-standard), round end size (if needed), square / rectangular end A and end B, and end types. End types include round end: QF, Raw ID, Raw OD, No Fitting, Hose Adapter, Flanged, or Van Stone. Square / rectangular ends can be flanged, hemmed or raw.
Download our Transitions / Hoods specification form
To download a product data sheet on Transitions or any product shown below, click here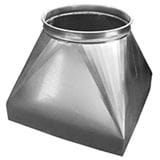 Canopy Hoods
Nordfab Canopy Hoods are built like our Rectangular to Round Transitions but available in standard sizes for standard pricing and quick turnaround.


Barrel Filling Hoods
Nordfab Barrel Filling Hoods are standard with a 24″ diameter. Choose the takeoff size of 4″, 6″, or 8″, depending on your material. Pre-engineered and ready to use.


Router Hoods
Dimensionally, Nordfab Router Hoods are very similar to surface grinder hoods and are often used as a replacement. These come with or without a magnet; the Router Hood with Magnet allows the user to easily place the hood where desired.

Bell Mouth Hoods
Nordfab Bell Mouth Hoods are available in a wide range of sizes, from 3″ to 24″. Especially good for capturing fumes and dusts while providing a very low hood entry loss.

Radial Armsaw Hoods
Nordfab Radial Armsaw Hoods are specifically designed for use with radial arm saws.

Suction Hoods
Calling these hoods may be misleading. The Nordfab Suction Hood is more similar to a compact manifold which allows connection of up to six closely spaced pickups, ideal for a tight area with lots of pickups.


Custom Hoods
If you need a customized hood or transition, contact us. You can request design assistance with drawings or send drawings you have created to Nordfab or your local Nordfab dealer for pricing and availability.