Serving the United Kingdom and Ireland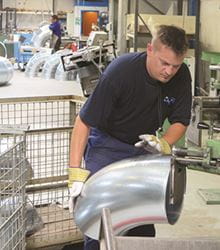 The Nordfab Group manufacture and supply high performance ducting to trade customers worldwide. With sales and manufacturing facilities across Europe, Asia and the Americas,
Nordfab is the industry leader and world's largest supplier of clip-together ductwork for dust, mist, fume and smoke applications and industrial ventilation.
Introduced in 1990, Nordfab's
Quick-Fit® ductwork
, with unique rolled ends and easy-to-use clips, can cut installation times by up to 50%, saving contractors time and money when compared to alternative types of ductwork.
In the UK, Nordfab owns and operates a 1050m² manufacturing facility in Leeds West Yorkshire, offering an extensive range of ducting with plasma welded seams for lower leakage and maximum system performance.
Our high-quality ducting is being manufactured using steel according to the British standard BS EN 10346:2015, Class A and B.
Nordfab industrial ducting products are sold only through Nordfab Authorised Dealers. If you are interested in becoming a Nordfab authorised dealer,
Become a Nordfab UK Dealer
click here.
---
Fast, Friendly and Reliable
Our communication and daily work is based on our being Fast, Friendly and Reliable – FFR.

Fast
We challenge, reconsider and create results. We are modern, proactive and focus on the customer. We take the initiative and find profitable solutions to the problems that we and our customers face.
Friendly
We are easy to deal with. We understand our customer's needs and create long term partnerships. We are professional and put emphasis on creating personal engagements.
Reliable
We are reliable. Our range of work holds a high quality standard and the customer has confidence in our capabilities.
---
Our Quality Policy:
Nordfab Ducting shall be leading in customer satisfaction by always delivering products, solutions and services that meet our customers' expectations and by continuously evaluating and improving our performance.
---
Our Environmental Policy:
Nordfab Ducting shall provide solutions that protect people, planet and products from the harmful effects of industrial processes.

Our work shall meet or exceed current legislation, and focus on continuous improvement & resource efficiency – thereby contributing to sustainable development and minimized impact on the environment.
---
Every action counts
We work continuously to improve and strengthen our business practices, with a focus on building and maintaining transparency, honesty and accountability. Through our independent Whistleblower System, both employees and external stakeholders can report suspected violations of law or business ethics.
---
Nordfab UK
Limewood Approach,
Seacroft, Leeds, LS14 1NG
+44 (0) 1132 739 400
[email protected]