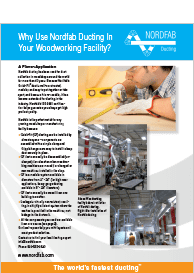 Nordfab's Quick-Fit® ducting has been used for dust collection in woodshops around the world for more than 40 years.
Quick-Fit clamp-together ducting eliminates rivets, screws, welds and flanges. It is easy to assemble and to disassemble for reuse / relocation.
Download our application sheet to learn more about why Quick-Fit is a perfect match for any growing wood shop.