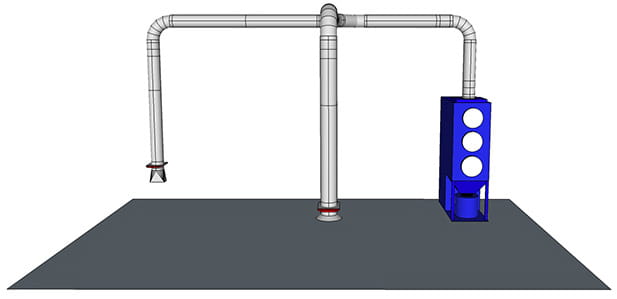 Nordfab Americas has developed a 3D Warehouse of products for use in Trimble SketchUp. This Nordfab software tool, which contains over 1800 Nordfab parts, allows SketchUp users to place models of Nordfab Quick-Fit® duct components into a SketchUp drawing.

The Nordfab parts models are functional with all versions of Trimble SketchUp; however, some features of SketchUp are available only with paid versions.

To download instructions and links to videos illustrating use of Nordfab's 3D Warehouse, please complete the form below to register as a user. Once you are registered, you will receive links to download the user manual and a list of Nordfab 3D Warehouse parts.

Your registration enables us to provide you with information about future updates.By clicking "I ACCEPT" below to register, you agree to the terms of our license agreement located here.

Nordfab's 3D Warehouse for SketchUp is just another of the tools / resources that Nordfab offers customers and users to simplify use of Nordfab products. Development of these tools is part of our ongoing effort to be "Fast, Friendly and Reliable"!
Since the launch of 3D Warehouse, Nordfab has launched a newer tool for designing duct installations: Click here to learn about Nordfab's tool, Quick-Fit Visual, for designing duct installations the easy 3D way.

Let us know if you have feedback regarding our 3D Warehouse or any of our other resources. We are always happy to hear from you.
---