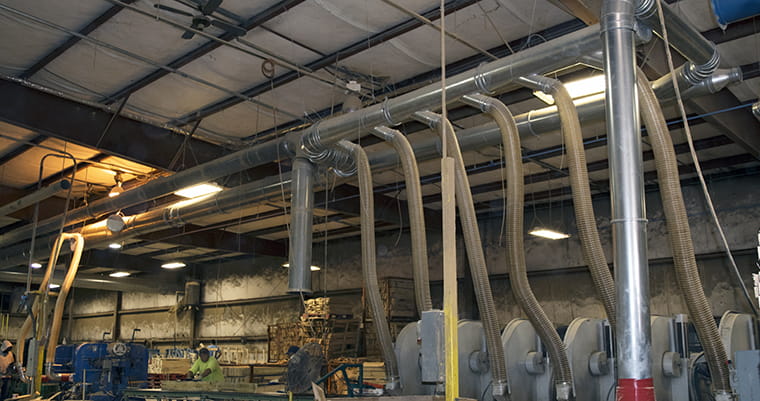 "Any additional ducting installed in this plant will be Quick-Fit®."
Those are the words of Hank Lenahan, who manages maintenance at ReRun of Tennessee LLC.
A family owned and operated business, ReRun manufactures and repairs wooden pallets and grinds recyclable plastics at an 87,000 square foot manufacturing facility near Nashville.
When it was time to update the plant's dust collection & waste recovery system in the pallet production area, the management team learned about the benefits of Quick-Fit clamp-together ducting and found they could easily source the Nordfab ductwork from an existing valued supplier. The team, which in addition to Hank, consists of company president John Lenahan and his son, Jay, who is the plant engineer, chose Quick-Fit duct for the new line inside the plant and Nordfab's heavy gauge ducting for the ductwork outside the plant.
Jay and Hank installed the Quick-Fit ductwork themselves during just two weekend days. Hank, who had previous experience installing flanged ductwork, appreciated how quick and easy Quick-Fit was to assemble and install. Both Jay and Hank appreciate that Quick-Fit ductwork is easy to remove and relocate or clean. They like the fact that it will be simple to add drops for machines that will be purchased in the future.
Nordfab's Heavy Gauge ducting, shown below, connects to the refurbished pulse jet collector and cyclone that were acquired for the upgrade.