A Proven Application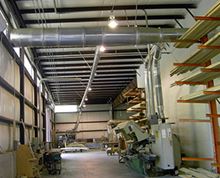 For more than 40 years, Nordfab ducting has been used around the world for dust collection in woodshops, from one-person shops to large manufacturing plants. Because Nordfab's Quick-Fit duct is well-constructed, modular, and easy to put together or take apart, and because it is re-usable, it has become a standard for ducting in the woodworking industry.
Nordfab is the perfect match for any growing woodworking facility for many reasons: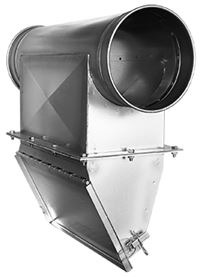 Quick-Fit (QF) ducting can be installed by almost anyone – components are assembled with the simple QF Clip.
QF duct can easily be disassembled (unclamped) for relocation when woodworking machines are moved / or changed or new machines installed in the shop. Due to its sturdy construction, it can be re-used again and again.
QF duct can easily be moved from one building to another.
QF is a modular design system available in diameters from 80 mm – 710 mm. Larger diameters are available with flanged connections. Nordfab offers specialized products for wood applications, including our Dropout Box which stops large wood chips in the airstream (shown at right).
Leakage is virtually non-existent, resulting in a highly efficient system where the suction is provided to the machines, not leakage in the ductwork.
All the components you need are available from one source, including manifolds and hoods for your machinery. Nordfab has designed and built manifolds to connect to many of the major woodworking machine models.
There is help with layouts and exact product selection and design of custom products.