Dust, mist, and fume collection provide clean air for workers and machines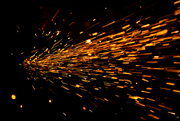 Air pollution, such as welding fumes, oil mist, and metal dust, is a common problem in metal fabricating and forming facilities. Contaminants can endanger employees' health and damage equipment used in production. Proper air filtration is required to eliminate these safety and production hazards.
Nordfab Quick-Fit (QF) ducting is used in dust collection / filtration systems in many metalworking facilities.
In addition to standard ductwork for these facilities, Nordfab supplies a number of customized solutions and products including:
- QFS sealed duct solution for oil mist applications

- Standard and customized Hoods for smoke and fume capture

- The Nordfab Inline Spark Trap which reduces the possibility of fire in welding applications (watch demonstration video at right)