Serving Europe, the Middle East and Africa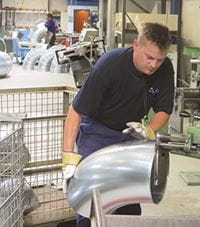 As a manufacturer of duct products for environmental filtration systems, we are proud to help supply clean air for workers and equipment in workplaces of all sizes and types. Our ducting is an integral part of dust, mist, and fume collection systems around the world.
Clip-together ducting
Nordfab introduced Quick-Fit
®
clip-together ductwork, with its unique rolled edge ends and easy-to-use clamps, in 1990. As well as being the originator, Nordfab is the industry leader, and the world's largest supplier of clip-together ducting for industrial ventilation.
Founded in Denmark 1973, Nordfab are proudly celebrating almost 50 years of service in the Clean Air industry. Today we have manufacturing facilities in Denmark, UK, USA, and Thailand. In addition to that we work with a dedicated sales & customer support network to service our customers around the world.
Become a Nordfab dealer
Manufacturing
Nordfab Europe currently operates a 6,000 square-meter manufacturing facility in Assens DK. We are manufacturing:
Quick-Fit® Ducting system,

Quick-Fit Sealed™ Ducting system for oil mist and cutting fluid applications,

FB Ducting system (flat edge and flanged duct),

2 mm and 3 mm Mild Steel Ducting system, and

High Vacuum system.
Over 150 production, sales, and customer support employees work at our facilities around the world. No direct competitor in the industry matches Nordfab's investment in qualified employees, R&D, or production technology.